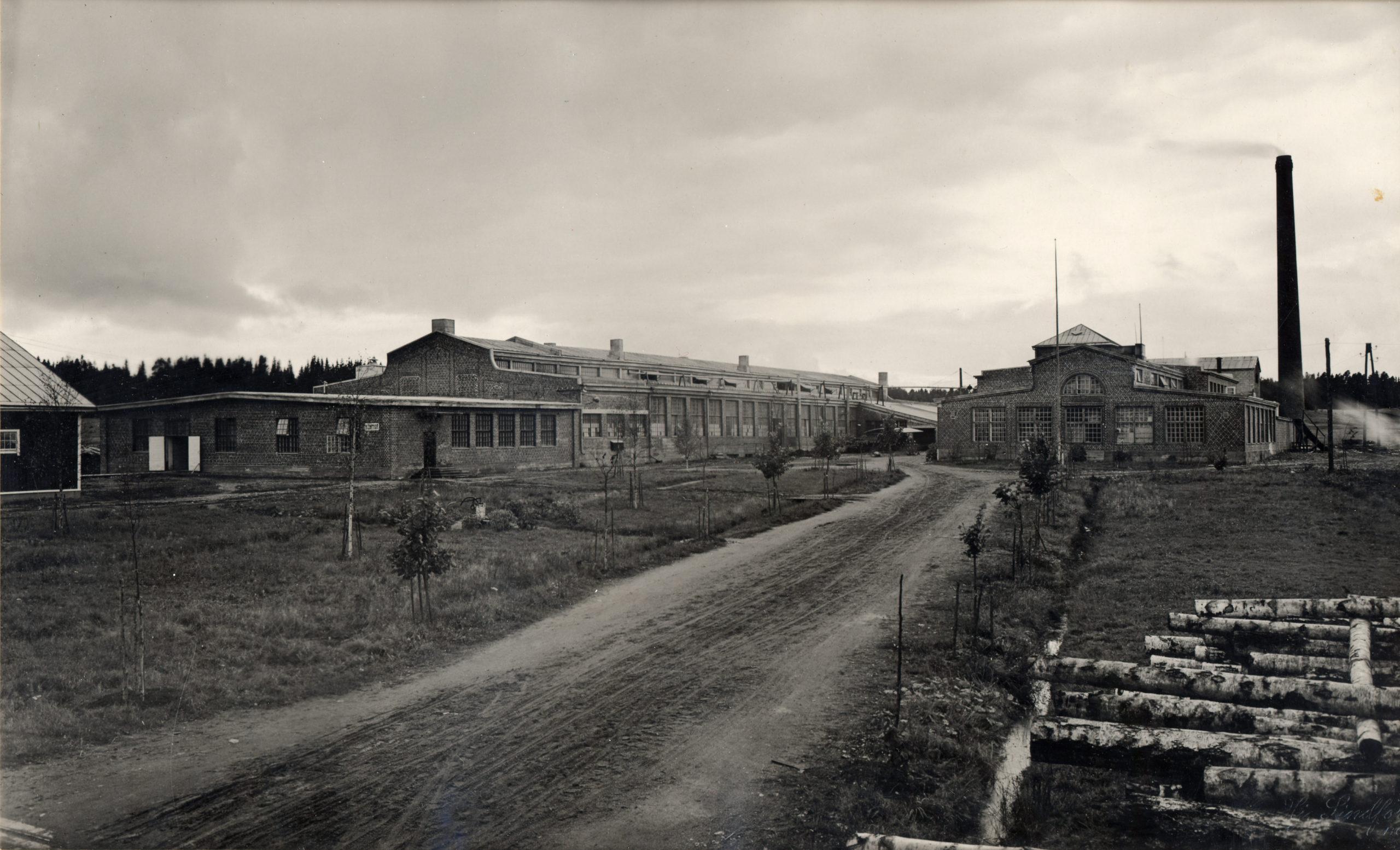 HISTORY OF THE ART FACTORY
Art Factory from a horse shoe factory to a culture and congress center.
There has been industrial activities in the Art Factory area for almost a hundred years ago. The activity started when Alba built a plywood factory in the 1920s to the spot where the current Art Factory is located. Shortly after the factory area was accompanied by a frame border company Haikka, mechanical engineering company Eklöf and a horse shoe factory. Later, Eklöf bought all the other companies.
These factories were a big employer in Porvoo. August Eklöf was a powerful business man and he was considered as an excellent employer who took care of his employee's wellbeing. He, for example, arranged a transportation for his employees across the Porvoonjoki River by a boat because at that time there was only one bridge in Porvoo near Old Porvoo.
In the 1940s the plywood factory was forced to shut down because it was difficult to get the material. The frame border factory continued operating and the mechanical engineering and horse shoe industries flourished. In addition of the mechanical engineering industry, there was a foundry and a spike factory. Tractors and Pikku-Jussi excavators were put together in the 1950s.
In the 1960s the factory went over for Fiskars. At that time the factory continued preparing big machine tools, tractors and excavators. The mechanical engineering stopped in the 1970s and the rest moved away in the beginning of 1980s.
In 1986 Fiskars sold the old factory building to the City of Porvoo, who were demanded to rent studios for artists. At the most, Art Factory has housed over 40 artists and different kinds of workshops. The artists held their first art exhibition at the Art Factory called FISK ARS in 1988. Over the years also other art exhibitions, concerts, markets and sports events were hold. Also Porvoon Teatteri (Porvoo Theatre) and a diner for unemployed operated at the Art Factory for many years.
In 1999 a local entrepreneur and a big friend and supporter of culture, Ensio Miettinen, founded together with the City of Porvoo a foundation that funded and maintained the building. Since then there has been plans of turning the building into a center of culture in Porvoo. In the beginning of the 21st century there was both an idea and a architectual competition.
Finally, the implementation of the plans finally started in 2007. The work began by purifying the land because it was contaminated by the industries. The actual building started in 2009. The Art Factory was finished in spring 2012 and was opened for the public in May. Officially, the building was inaugurated under the direction of prime minister Jyrki Katainen on 13 August 2012.
Chief Architect is Hannu Kiiskilä and Arrak Architects.
Constructor has been Rakennusyhtiö Hartela.
The Art Factory is owned by three big foundations: The Finnish Culture Foundation, Alfred Kordelin Foundation and Emil Aaltonen Foundation.